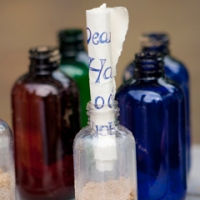 In this act from a Chicago radio talk show by Ira Glass, comedian Dave Hill tells a story live of when he got a message. He got the message loud and clear in the form of a Gatorade bottle filled with urine. Dave had been on a subway platform when he had woken up a homeless guy to try to throw some trash away. The guy proceeded to throw the bottle at Dave.
This act doesn't use music except to introduce the act. Most of the eight minutes is Dave telling his story.
Dave was running late to a big conference or dinner for something in downtown Chicago. He had to take the subway to get there but stopped to get a bite to eat. When he got off at his stop to throw away the trash, he awoke this bear of a homeless guy who had a giant bottle of Gatorade filled with his own urine. He threatened to throw it at Dave if he didn't back away and get the trash out of there. Dave moved a bit and the trash was removed but the guy still threw the bottle of urine at him anyway. Apparently he wasn't satisfied with Dave's efforts of backing up.
This is yet another example of how messages can not be a very good way of communicating. They're not a very good way of communicating because they can be interpreted the wrong way by the receiver and the consequence(s) could be negative, or not how the user of the message wanted or hoped for. Just the man saying "Back up or I'll throw this bottle of piss on you!" should have been enough for Dave to get the picture and move, especially when the homeless man showed him the bottle. It was huge! But apparently the space that he did move was not enough, for the man still threw the bottle. And not a drop was wasted. It soaked him. At this point, Dave got the message the man was trying to give and got the h*&l off the platform. The question is, though, why did the man have to throw the bottle? Dave was just trying to throw a piece of trash away and saw no trash can but a storage container in which to set it on.
You can listen to the eight minute-long segment here,
http://www.thisamericanlife.org/radio-archives/episode/475/send-a-message?act=2#play
Or you can listen to the full hour session for that week here,
http://www.thisamericanlife.org/radio-archives/episode/475/send-a-message